Regular upholstery cleaning is really important to keeping our homes clean and tidy. We use and sit on our upholstery furniture very regularly, so it is likely to experience much wear and tear. Airborne particles as well as those rubbing off from our skin and clothes are exposed to our furniture throughout the day. The fibres work as a filter for these particles. However, this is likely to make your upholstery suite look dirty over time. When this happens, you will need the help of a professional upholstery cleaner. They are equipped with the high-powered cleaning machinery to deep clean your furniture and return it to its like new condition.
What can you expect from an upholstery cleaner? The following information guides you through the process and allows you to know what to expect. It is important at this point to state not to compromise. The following allows you the opportunity of finding the best-served professionals to clean your upholstery.
Firstly, it is important to find a Company who has the appropriate labour to take on the project. There are many upholstery cleaning qualifications available. Your chosen company should be able to discuss the accreditations that their employees have. Experience is really important, and a more experienced company will be able to bring this time-served experience to the project in order achieve superior results.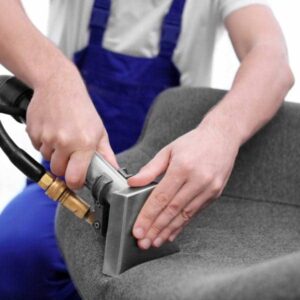 Secondly, they should have invested in the appropriate cleaning machinery. It is true that you get what you pay for in terms of upholstery cleaning machinery. The best-available offers a high-powered and intense cleaning process. It uses heat and power in order to remove dirt, grime and bacteria from the material. It removes all dirt and water to an external collection point which is taken away. This machinery allows its operatives to offer a fast and efficient service. However, best of all, it is cost effective and offers brilliant results.
Thirdly, you should be able to find a range of information and reviews about your chosen company. This allows you to familiarise yourself with them, the services they offer and the results you can expect. Reviews can often be found in a range of places including Google, their website and other independent sites such as Checkatrade.com. Companies belonging to such directories are backed by their guarantee. They are regularly vetted and monitored to ensure they are keeping in line of their strict requirements.
Finally, you should expect your chosen company to have the appropriate insurances. When working in your home or business, if any damage occurs, this will be covered by that insurance. It is an unlikely event, but however unlikely, it is important that you have the assurance as an individual that your belongings are safe and covered. You can ask to see proof of this insurance at any time.
Each of these elements are important but brought together allow you to know exactly what to expect from your chosen upholstery cleaner. With all of these factors, you will likely receive a first-class service from time-served professionals. Your upholstery will look like new and you will have confidence in your selection.
For more information you can call us 01623 362 125 or email us [email protected] or visit our website www.cleancarpetsmansfield.co.uk.